By Sean Garland, Editor-in-Chief
The NHL playoffs are drawing to a close, with the St. Louis Blues and the Boston Bruins battling it out for Stanley Cup glory. Two teams who can call their season a success, with or without a Cup.
The other 29 NHL teams, those who made the playoffs and those who didn't, will be looking for ways to improve their rosters this summer for a chance to be next year's top two clubs. This means teams will be looking to acquire players either via free agency (both potential restricted and unrestricted free agents alike) as well as moving out some players who no longer fit with their current teams and could use a change of scenery.
And this summer is setting up to be a historic change of the NHL landscape, with potential offer sheets abound and some of the biggest names free agency has ever seen (sorry, John Tavares).
With that, The3Righties presents 5 NHLers who could be traded this summer:
5. PK Subban
The Nashville Predators were stunned by the surging Dallas Stars in the first round of this year's wild NHL playoffs. General manager David Poile thought his plethora of trade deadline acquisitions would have his team playing for the Stanley Cup. Instead, the Preds found themselves looking into the mirror trying to figure out where everything went wrong.
On paper, the Preds looked like the winners of the trade deadline, adding established names such as Wayne Simmonds, Brian Boyle and Michael Grandlund to their roster without giving up too much from their existing roster. But in reality, things didn't go as planned and none of these acquisitions seemed to pan out the way Nashville had hoped. 'Smashville' is in need of some reconstruction, one that comes on the heels of two straight deep playoff runs the past couple of seasons that raised the expectations for this franchise to compete, if not win, the Stanley Cup. Failing to come anywhere close, like losing in six games to a lower seed, means that changes to this roster is more than necessary.
Defenseman PK Subban is the highest paid player on the Preds roster with a salary cap hit of a whopping $9-million dollars. Despite this hefty price tag, PK remains one of their most entertaining players to watch. He's had as much of an impact on the city of Nashville as he did with the Montreal Canadiens and has made himself a recognizable name in the community. But nearing thirty-years-old, and coming off the worst season of his career, the Predators may be inclined to move out his salary and give themselves an opportunity to bid for a few highly-coveted free agents on July 1st. The Preds could have significant interest in both potential unrestricted (Erik Karlsson, Matt Duchene, Artemi Panarin) and restricted (Mitch Marner, Mikko Rantanen) free agents, and Poile will need to shed salary in order to add one of these star players.
Unfortunately, its looking more and more likely that Subban's on his way out.
Potential trade destinations:
Vancouver Canucks, Edmonton Oilers, New Jersey Devils, Philadelphia Flyers.
4. Nazem Kadri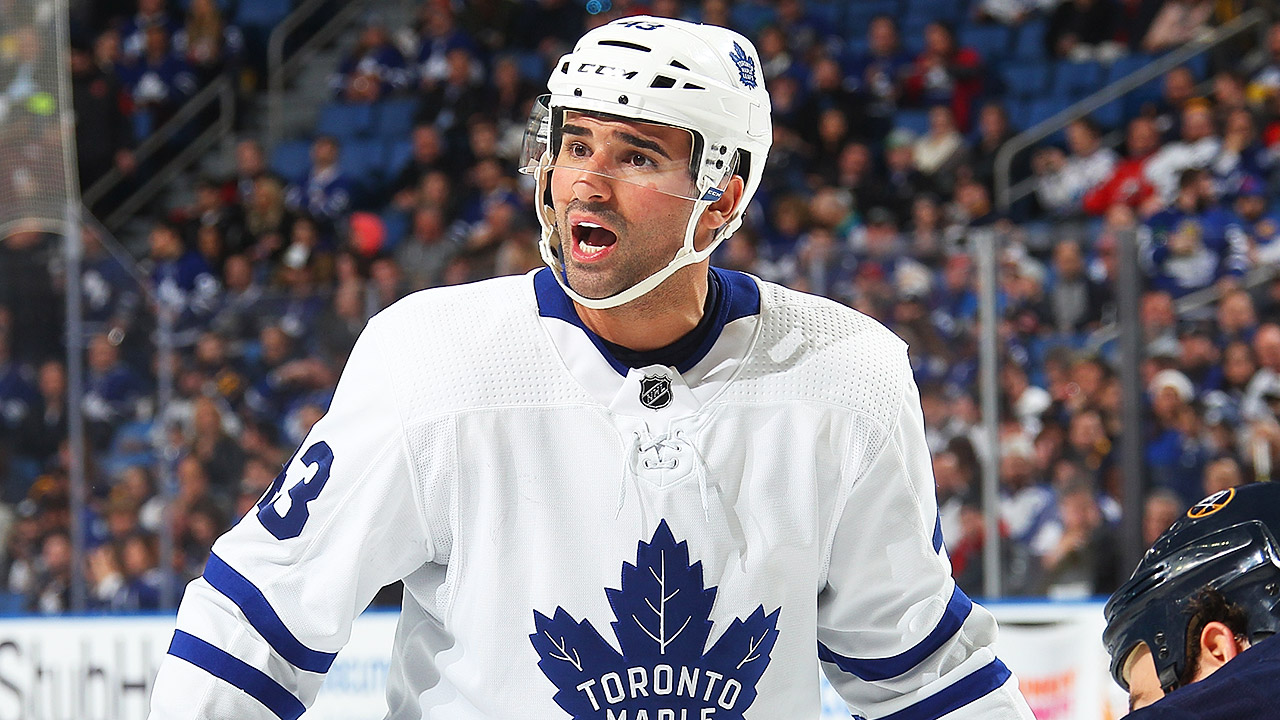 The Maple Leafs had the feeling of deja-vu during their first round loss to the Boston Bruins. Head coach Mike Babcock's future is under scrutiny, upcoming unrestricted free agent defenseman Jake Gardiner was, again, the scapegoat for the Game 7 defeat, and Nazem Kadri was suspended for the remainder of the series, costing his team by creating a hole at center.
Kadri has proven to be a capable third-line center and, after the signing of John Tavares last July, provided the Leafs with solid depth up the middle, something that all NHL teams covet.
But Kadri's costly mistake, for the second year in a row, has likely sealed his fate in Toronto. The Leafs could also use the cap space that a Kadri trade would create to lock-up their slew of restricted free agents, headlined by superstar 22-year-old Mitch Marner who seems to be synonymous with the term offer sheet.
Potential trade destinations:
New York Islanders, New York Rangers, Florida Panthers, Buffalo Sabres.
3. Phil Kessel
The last remaining player of the Penguins' famous H-B-K line that practically won them a Stanley Cup in 2017, Phil Kessel has likely played his last game in Pittsburgh. He'll likely follow his former linemates, Carl Hagelin and Nick Bonnino, out of town sooner rather than later. His friction with head coach Mike Sullivan, his decline in production as well as his salary cap hit of $8-million are all things Pittsburgh could afford to lose.
You may have already seen that Kessel has nixed a trade to the Minnesota Wild (more on that below) and former NHLer turned NHL on NBC panelist Jeremy Roenick has already stated that he knows where Phil wants to go, even if he didn't mention the team specifically. Well, its clear Phil Kessel and the Penguins want out of their relationship but Kessel with an eight team trade list will dictate where he goes, which limits the Pens' ability to get a kings ransom in an exchange.
Kessel will be a member of the Arizona Coyotes next season, reuniting him with his former assistant coach Rick Tocchet. The question is when not if. The ownership group in Arizona is the only thing holding this deal up and once the ownership has settled, Kessel will be packing his bags and joining his new team. Let's hope for his and the Penguins' sake its sooner rather than later.
Potential trade destinations:
Arizona Coyotes.
2. James Reimer
If you've been listening to the worst kept secret in the NHL, then you know that Sergei Bobrovsky and Artemi Panarin will likely be calling South Florida home on July 1st, 2019. Perhaps they will reconsider, but one thing's for certain is that the Panthers will be re-thinking their goaltending position this summer.
The dynamic duo of Roberto Luongo and James Reimer has failed miserably and especially this season, as the Cats gave up the most goals and had the worst combined save percentage of any team in the league. This, along with some defensive deficiencies, cost head coach Bob Boughner his job.
General manager Dale Tallon acted swiftly to find Boughner's replacement, snatching three time Stanley Cup champion Joel Quinnville as the Panthers' newest bench boss. Now, with a new coach in place, Tallon's attention shifts to freeing up cap space from his aging roster to be able to spend this summer.
While Luongo mulls over retirement, there is likely little trade interest from other clubs for his services. Reimer, on the other hand, could be an option for a club looking for a back-up goaltender, so long as the Panthers retain a portion of his $3.4-million dollar cap hit. He's got one more year remaining on his deal and a change of scenery could be just what this thirty-three-year-old needs to rejuvenate his career in the NHL. Any NHL team looking for a back-up goalie this summer will likely circle to South Florida, if and when all other options fail.
Potential trade destinations:
Montreal Canadiens, Columbus Blue Jackets, New Jersey Devils.
1. Jason Zucker
Jason Zucker will be the next member of the Minnesota Wild to be dealt by general manager Paul Fenton, who is clearly rebuilding this club after shipping off long-time Wild members Mikael Granlund, Nino Niederreiter and Charlie Coyle leading up to last year's trade deadline. The returns that Fenton has managed to get for those players have been lackluster. He's hoping that moving Zucker, who had somewhat of a down year last season, will be able to fetch his biggest return yet. Only problem is that Phil Kessel (see above) refused to join the Wild, since its rumored that he doesn't believe Minny is in the greatest shape of a franchise. Zucker meanwhile has been attempted to be traded by Fenton twice now, the other occasion being that a trade deadline deal with the Calgary Flames never came to fruition after Calgary GM Brad Treliving got cold feet about moving Mikael Frolik. You might see these two teams coming together on a Zucker deal after all, especially if the Flames can convince the Wild to take on James Neal's contract. And considering the types of moves Fenton has made in his first year, he'll want some youth coming back as well. But one thing is for certain: Zucker's days with the Wild are about to come to an abrupt end. He's a scorer with speed, so quite a few teams will have interest, especially those that miss out on some of the big fish expected to be available in this year's free agent pool.
Potential trade destinations:
Pittsburgh Penguins, Calgary Flames, San Jose Sharks, New Jersey Devils, Colorado Avalanche.